Michigan Agriculture Environmental Assurance Program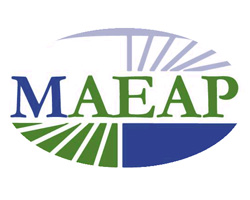 We are here to help and recognize farmers who reduce erosion and runoff from private land into public waters. Call Mila Resetar – MAEAP Technician 810-664-0895 ext. 5 covering Lapeer and Macomb Counties.
Getting verified in the Michigan Agriculture Environmental Assurance Program (MAEAP) shows peers and neighbors the high level of commitment to agricultural stewardship and protecting the environment. MAEAP has four systems that address different aspects of the farm: Farmstead, Cropping, Livestock and the newly developed Forest, Wetlands and Habitat System. Each looks at different practices depending on site-specific management and production practices and associated risks.
The

program is 100% confidential

, guaranteed by state law
We will treat you and your business with respect
We will help you with the paperwork and the process
We will help you leave a legacy for your children
Recognition as a top steward in the community
Regulatory protections
Preferred consideration for technical assistance and cost share
An enduring sense of accomplishment and pride
Achievable.  Farms have earned over 5000 verifications across the state
Something to be proud of
Be among the top 5% of farms who have earned this designation so far
You can attend a workshop or schedule a private meeting to learn about what MAEAP is, by calling your MAEAP technician. You can also view educational videos and sessions.
This photo shows former MAEAP technician Rob Malcomnson talking about Hoop Houses on a farm tour.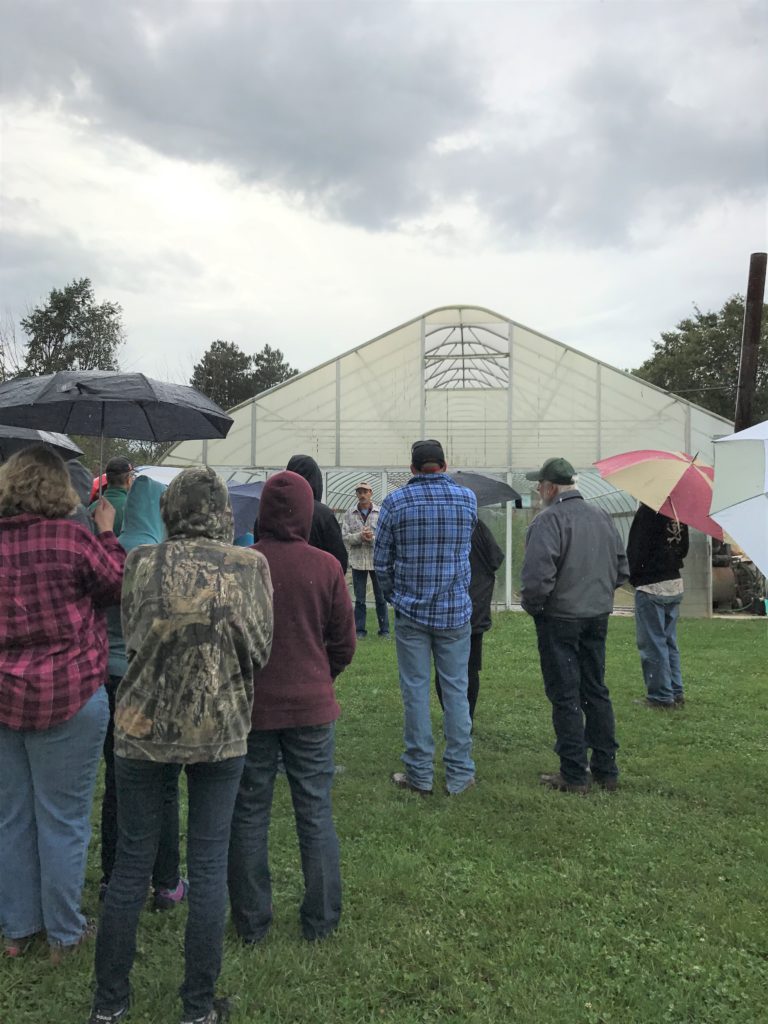 Farm Visit & Recommendations
Invite your local MAEAP technician to tour your farm with you and have the technician explain the program and recommend practical steps you can take to reduce erosion runoff into public waters. 
*Please note that  everything the technician learns about your farm will remain confidential and will not be shared with your competition or environmental regulators.
Your MAEAP technician will assist you every step of the way.  You work at your own pace.  A technician will help you develop your plan of action and fill out paperwork.  He or she will also steer you to cost share and expert help, if you want.
Trish Dennis, the owner of Indigo Lavender Farms of Imlay City states, "The process of becoming MAEAP verified was streamlined.  The program was educational and easy to implement."  She also said that, "We wanted to farm in a sustainable way and we needed help to achieve that.  Being MAEAP verified lets our customers know we are environmentally conscious." 
Trish Dennis is shown here with her father Ron Ronat.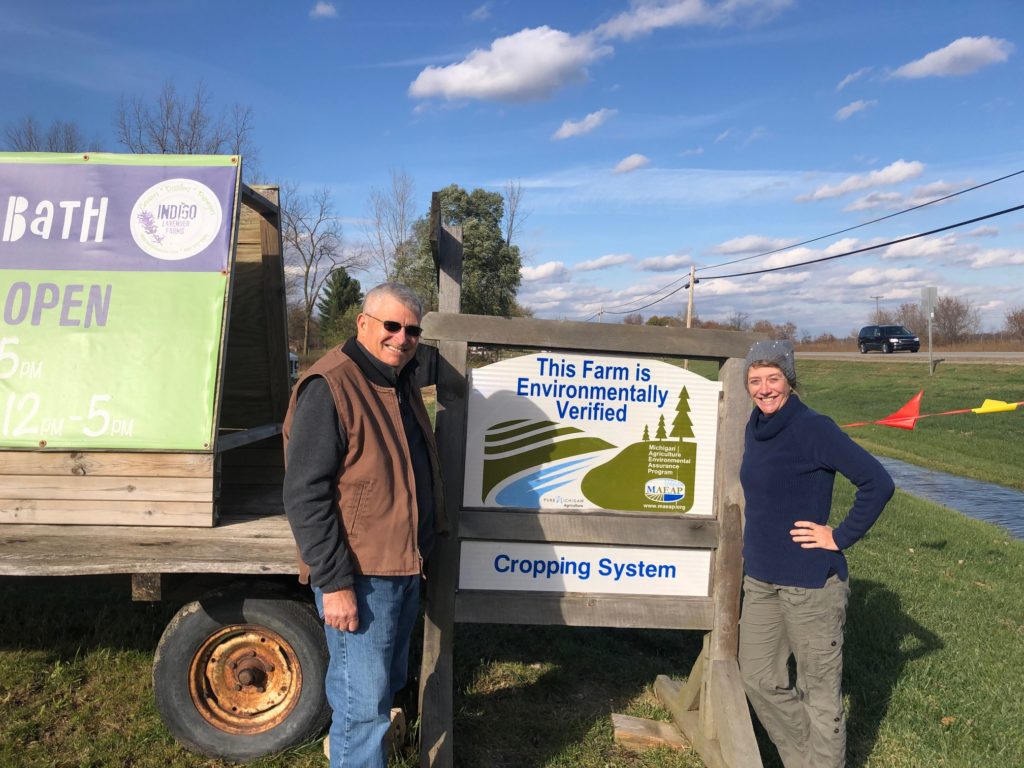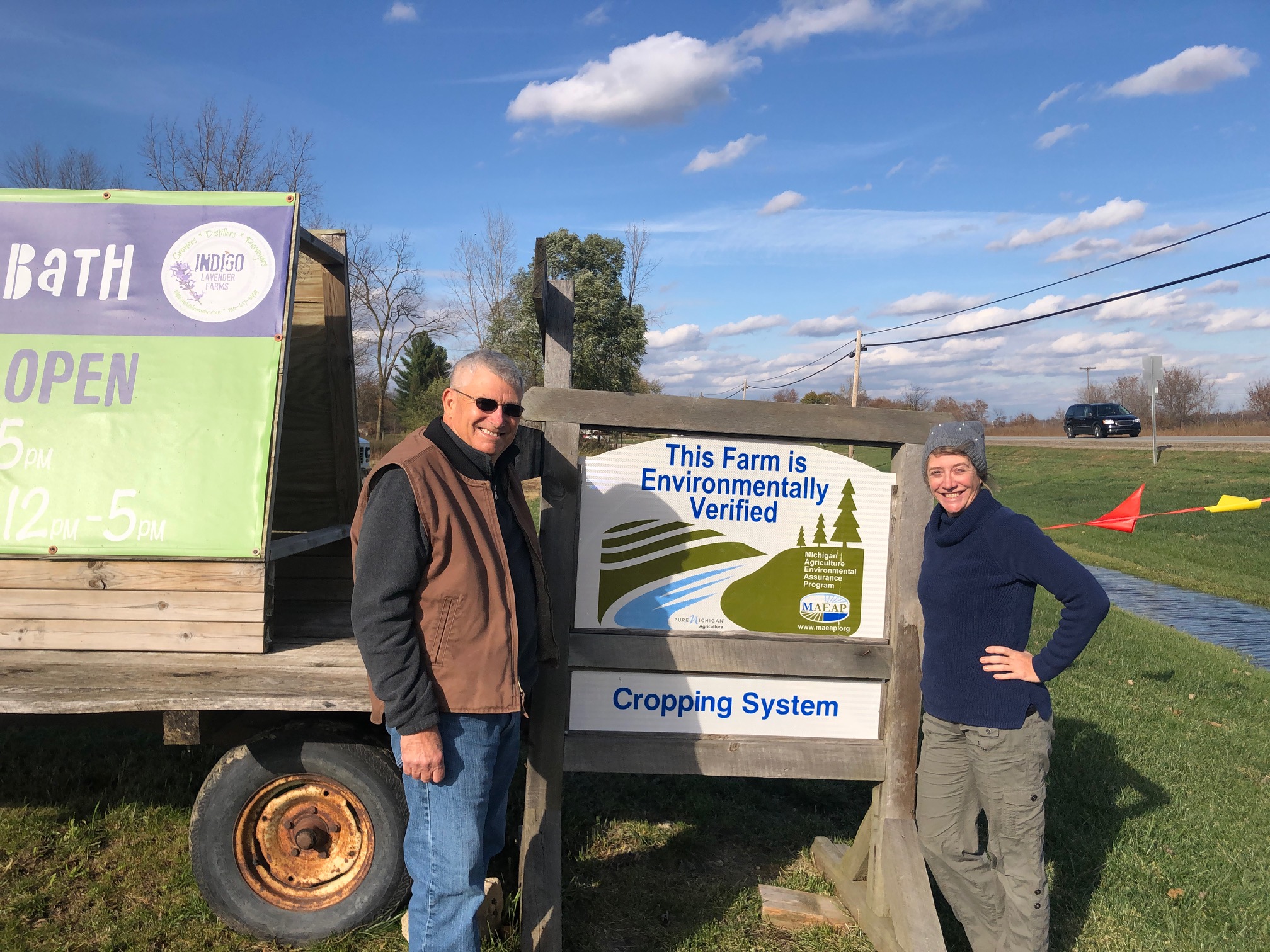 Once the work is complete, you will contact the Michigan Department of Agriculture and Rural Development (MDARD). A verifier from MDARD will visit your farm to ensure the recommended practices are in place and address erosion and run off risks on your land. Once your farm has been "verified" you will receive a sign to display on your farm.
This MAEAP recognition is good for five years and to maintain it you would review your plan with a MAEAP technician and again request a farm visit from MDARD.
Matt Swoish, from Swoish Farms whose family has been beef farming since 1936, presently on 1400 acres out of North Branch, stated that, "that being MAEAP recognized is important to show you conform with the environmental requirements which is good for our customers to know. Livestock producers have a lot to gain from the MAEAP verification especially regarding manure storage. The record keeping you learn helps to protect ourselves if there is a complaint…. you have the paperwork to show that you are meeting the standards with the environmental requirements and that we are mindful of the environment." Swoish Family pictured below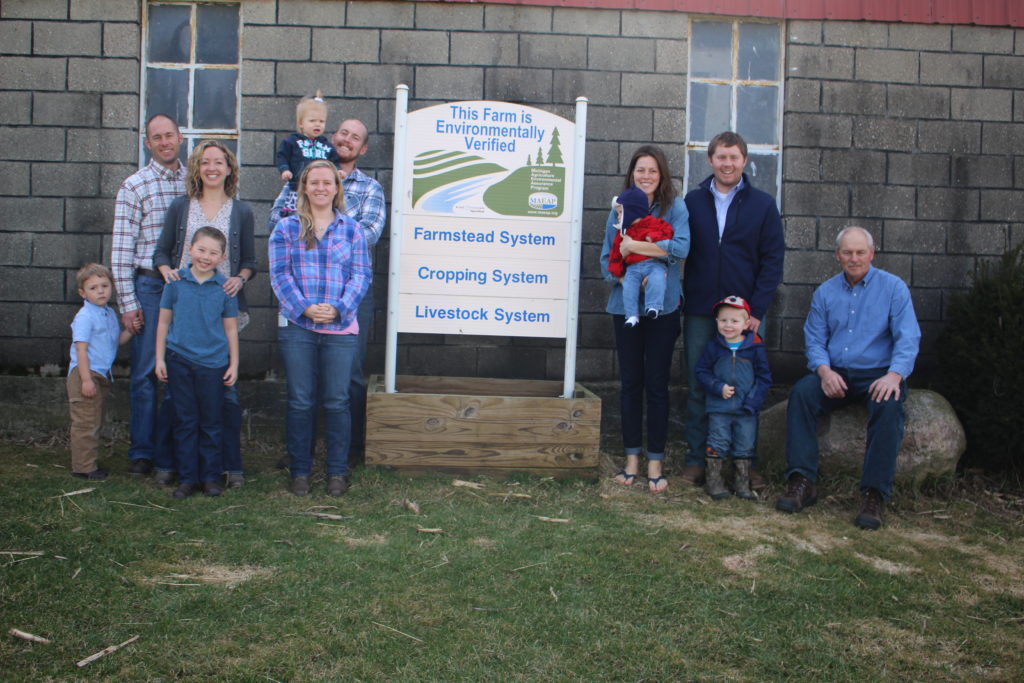 David Brusie, of David W Brusie and Sons, Inc are MAEAP certified in cropping on 2,205 acres and he said "I looked into it after I saw the neighbors do it and thought it was a good idea.  It is relatively simple to do and the keeping track of say phosphorus levels, soil testing and such is a great way to monitor yourself and show good practices.  I thought the recommendations were all practical but had to work out the fuel tank prevention for possible spills."
Adam VanDyk, of VanDyk Farms is MAEAP certified in cropping on 1,120 acres and he said "I heard about the MAEAP program at the Great Lakes Expo and had seen the signs.  The recommendations made were worthwhile to work at.  I was never rushed and it wasn't as time consuming as I had expected.  I would and have recommended MAEAP to other farmers.  Our customers may not really know what MAEAP is about yet.  When more realize we have passed, it shows them we are being sustainable and environmentally safe.  MAEAP is a good way to test ourselves that we actually are environmentally safe."
Lapeer County Verified Farms
Boughan Farms, North Branch
Byrdee Farms, Otter Lake
C & S Dairy, North Branch
Castillo-Perez Farm, North Branch
Charles P. Mann Farm, Imlay City
Country Road Vineyards, Lapeer
Daly Farm, Goodrich
Daley Acres, Lum
Felton Farms, Lapeer
Grandpa's Farm, Imlay City
Hodge Farm, Lapeer
Howell Farm, North Branch
Howland Farms, Brown City
Jostock Farm, Lapeer
Kenrick Farm, Almont
Lapeer County Education & Technology Center, Attica
Ligon Farm, Almont
Listwak Farm, North Branch
Louis Martus Farm, Brown City
Matt Swoish Farm, North Branch
Muxlow Stock Farm, Marlette
Nature Harvest Organic Farm, Metamora
Noble Hills Farm, Metamora
Parks Show Cattle, LLC, Metamora
Penzien Farm, Attica
Perkins Farms, Lapeer
Pineberry Farm, Silverwood
Rainbow Organic Farm, Imlay City
Siegler Dairy Farm, Imlay City
Skyline Camp and Retreat Center, Almont
Solon Farms, LLC, Clifford
Steve Schaub, North Branch
Stony Croft Farms, Lapeer
Swoish Farms, North Branch
Tim Campbell Farm, Imlay City
Tindall Farm, Metamora
Valentine Farms, LLC, Fosteria
White Pine Farm, North Branch
Wilson Farm, Clifford